Description
Beni Tonka Cacao
Mysterious, forbidden and indulgent – Beni Tonka Cacao sweetens experience, calms the nerves, energizes and excites. Used for millennia as a mystic brew made from coarsely ground, fermented cacao beans, chili and spice. Then, they'd brew the mixture beneath the surface of hot water, giving cacao room to bloom.
Imagine yourself, like them, pouring that elixir from one cup to another, from a height, awakening the spirit of the drink, the froth. At last, they would sip this goodness, allowing the slow, glowing seductive flavor to guide them into spiritual visibility during rituals and heated affairs!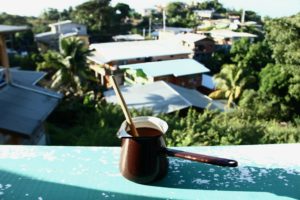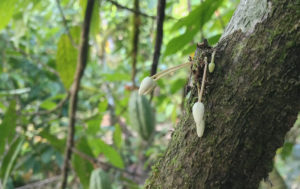 Made in Trinidad
Beni Tonka Cacao is locally grown, harvested and manufactured. Trinidad has a long, defiant tradition of making cacao. At home, we get the best flavors and textures out of our beans, and take care of our farmers, manufacturers and their families directly and first. >>>>> read more
Papa Bois – protector of flora and fauna. A full bearded, wholly weathered spirit. Half-man, half-beast, cloven feet, crowned with Kudu horns, detached at will, and sounded upon rescue of an endangered animal. Morphing into any creature of his choice, he surprises poachers, casting a sinister spell to transform his victim into a quenk.